Rockabye Early Learning Centre takes the care and education of young children seriously. Today centre owner Caryn Mawkes has some practical and helpful tips to support you and your child through the toilet training process.
Wow 'toilet training'- do these words make you feel pressured?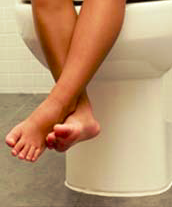 Becoming a successful toilet trainer is all about being organised and having a positive outlook on this milestone. Remember, you're one of many going through this process. I am often asked questions on this topic such as:
When is the right time? Most children are ready to be toilet trained between 2 and 3 years old. Some children may show an interest in the toilet or are starting to be dry for longer periods of time. As a parent you certainly need to be in the right frame of mind and be positive about toilet training with your child.
Where do I start? It is important to discuss and involve your toddler in the process. This may include taking him or her shopping for new underwear (plenty of them). A very helpful tip is to buy a 'toilet seat insert'. This will help ease any anxious behaviour while sitting on the big toilet. Ensure your toddler has clothing that is easy to pull on and off.
Positive encouragement. Children thrive on positive praise and this certainly helps build their self-esteem. Always praise your child's achievements even if it is only a small milestone. In a child's eyes these achievements are a big deal.
Be patient. There will be accidents, but remember this is all part of the learning process. At times your child may regress, don't get discouraged- this is perfectly normal toilet training behaviour.
Toilet training is a developmental process not a race.
Be consistent.Once you start on toilet training there is no going back. Switching back and forth to nappies is extremely confusing to a child. When children graduate to underwear it empowers them to feel like 'big boy/girl'.
What if my child is childcare? Consistency and repetition are two key components of successful toilet training. Most childcare centres will be more than happy to give you helpful tips and work alongside you during this time.
Finally, remember toilet training is a milestone every child goes through. It can be an exciting and rewarding time for you and your child. Good luck and take the good with the bad, it won't happen over night but it will happen.